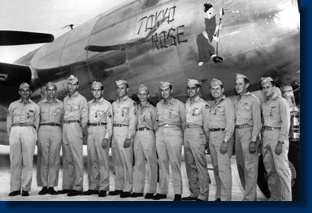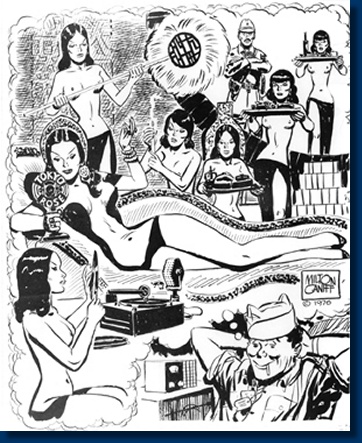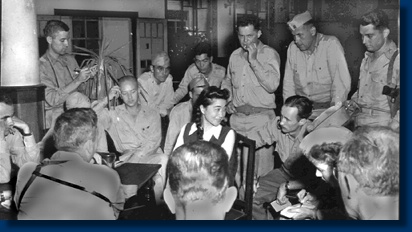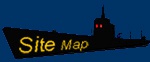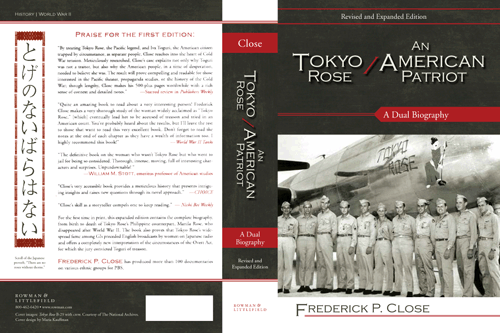 Book Supplement Features

Author's Official Website for

Click on yellow buttons to navigate

Tokyo Rose / An American Patriot

Tokyo Rose / An American Patriot
is abbreviated
TR/AP
on this website.
The abbreviation works not only as an anagram, but also as a description.
Iva Toguri fell into a trap, the trap of the legend of Tokyo Rose.

A Dual Biography

Website contents Copyright © 2010
Frederick P. Close All rights reserved

Scroll of the Japanese proverb:
There are no roses without thorns.

Rowman & Littlefield Publishing, 2014
ISBN 978-1-4422-3205-1

One of WWII's most sensational stories was that of Tokyo Rose.... By treating Tokyo Rose, the Pacific legend, and Iva Toguri, the American citizen [accused of being Tokyo Rose], as separate people, Close reaches into the heart of Cold War tension. Meticulously researched, Close's case explains not only why Toguri was not a traitor, but also why the American people, in a time of desperation, needed to believe she was. The result will prove compelling and readable for those interested in the Pacific theater, propaganda studies, or the history of the Cold War ... Close makes his 500-plus pages worthwhile with a rich sense of context and detailed notes.

by Frederick P. Close

Publisher's Weekly
STARRED
Review

The 2014 Revised and Expanded Edition

Close's very accessible book provides a meticulous history that presents intriguing insights and raises new questions through its novel approach.

American Library Association's CHOICE

Nichi Bei Weekly

Close's skill as a storyteller compels one to keep reading.

The 2014 revised and expanded edition contains for the first time in print the complete biography from birth to death of Manila Rose. No one realized until now that in 1949 she was living in San Francisco a few blocks from the courthouse where "Tokyo Rose" was tried for treason. (Click the Manila Rose button above for more info.)
The paperback also adds other important historical information and I have rearranged and rewritten its chapters to make the book more readable.

The well-reviewed 2010 hardback is now available in paperback. Check out this new edition! See the blurb below.

Look for this banner!